THREE FORKS, Mont. – It was 88 days on the longest river in America. The grueling summer heat, high winds and dark storms coupled with pesky mosquitoes lingered for three months, but the result was an artistic adventure and encounter with the unknown.
Artist Steve Snell first became interested in the Missouri River after moving to Kansas City nearly a decade ago.
He explored the river locally, both over short and long distances. But it was during a summer run in Nebraska that he met a kayaker on the Mighty Mo paddling out to the Gulf of Mexico. The encounter planted a seed for the most ambitious adventure he would embark on seven years later.
On June 2, Snell packed his modified Kevlar canoe with a waterproof case filled with photo and art supplies. Waterproof bags would contain his camp gear, a small stove and clothes. He also put away a month's worth of food and a week's worth of water.
His family then drove him to Three Forks, Montana, where the Gallatin, Jefferson, and Madison rivers join to become the Missouri River, to launch his canoe. Snell would now paddle 2,341 miles to the confluence with the Mississippi River in St. Louis.
Snell said leaving his wife and 2-year-old son behind was one of the hardest parts of the journey, but living on the river brought needed life experience and a sense of gratitude.
"There was no guarantee that it would be available in the future. That my health would allow it or that certain circumstances would line up to allow me to be away for so long," he said. "I just felt grateful to be able to have this experience."
'IT WAS TERRIBLY TIPPY': NEBRASKA FARMER STORIES NAVIGATING RIVER IN 846 POUNDS OF PUMPKIN
His days revolved around sunrise and sunset. A hot breakfast at camp would consist of oatmeal with dried fruits and nuts to pack the calories for the strenuous day ahead. But not before a hot cup of coffee while creating a painting would he break camp and stow his canoe to paddle until dusk or until the weather permitted.
"If the weather was good, I would prioritize paddling above all else and do as many miles as possible because I knew my luck would run out eventually," he said.
Snell would repeat this routine for the next 87 days.
angels on the river
Along the way, he encountered a network of strangers up and down, offering their generosity and support.
"They want to help you succeed, and they want to be part of it, too. And I think that's a big part of that journey," Snell said.
Most days on the river consist of 8-12 hours of paddling. Snell remembers walking into Bridge City Marina outside of Mobridge, South Dakota, after a tough week and a rough morning on Lake Oahe.
"I walked into the marina hoping they were selling snacks, then thought I'd go to the nearby campsite to pitch my tent and wait out the warm, windy weather," he recalled.
The marina was empty except for a man seated at a table. He stood up when Snell entered and asked if he was a paddler.
"When I said 'yes,' he immediately asked me what I wanted to eat," Snell said. "His elderly mother also showed up and asked if I had any laundry to do."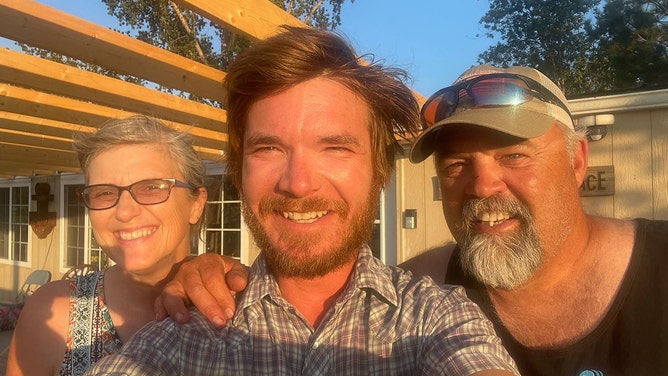 The marina owners also housed him for free in one of their air-conditioned rental cabins for the next two days while they waited for the weather to end. They also fed him and transported him around town to the post office and the grocery store.
MILES OF MEMORIES: THE SUN POWERS THE FAMILY'S NOMADIC ADVENTURES ACROSS AMERICA
"When I left a few days later, they sent me up with local beef jerky, banana bread and a frozen rib eye," he said. "I cooked it that night on a little cast iron stove that I had been carrying for two months and hadn't used yet. It was the best steak I've ever eaten."
Snell said he had not planned to meet these angels; they helped reduce the isolation on the river.
Adventure Art and Weather
Another critical aspect of Snell's adventure was the weather and living at the mercy of the great outdoors. Mother Nature would also prevent Snell from paddling or not.
"When the wind was blowing, you can't get on the water safely. And you have to listen to what your intuition, the river and the wind are telling you and stay ashore if that's the case," he said. -he declares.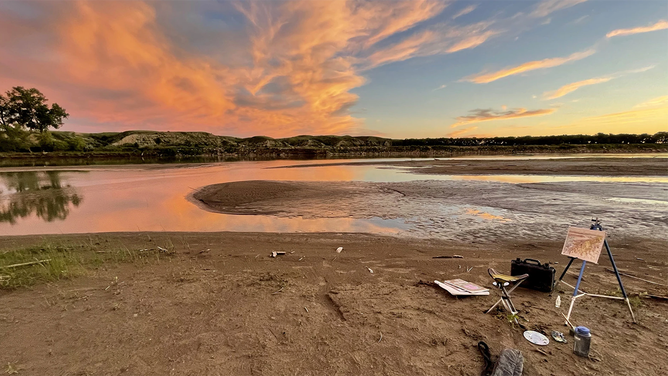 Until now, Snell had never been more interested in the direction the wind was blowing, the speed of the gusts or even the forecast.
"If you know there's been two days that they're calling 50mph gusts, you're not going anywhere," he said. "I was trying to be strategic in some cases and taking very long days to walk out in front of some systems or lay down in front of them so I wouldn't be in a potentially dangerous or uncomfortable place."
Without a reliable forecast and knowing when wind advisories are issued, Snell would have been stranded on a rocky, barren shoreline with a small umbrella for shade.
His goal was to create a series of small watercolors of the entire Missouri River, which he says was directly inspired by Swiss artist Karl Bodmer, who traveled up the Missouri River in the 1830s. like George Catlin, John James Audubon and Thomas Hart Benton add to a long history of artists traveling the same river.
BRITTA MERWIN SHOWS NATURE'S HEALING POWER IN FOX WEATHER DOCUMENTARY
To this day, Bodmer's watercolors remain an important image of what the Missouri River looked like before the Army Corps of Engineers and the modern development that has taken place over the past 200 years.
But Snell wanted to do something new – something he calls "the art of adventure". In addition to painting 88 pieces that he hopes to one day feature along the various states that line and border the Missouri River, another part of his concept was to create a painting exhibit.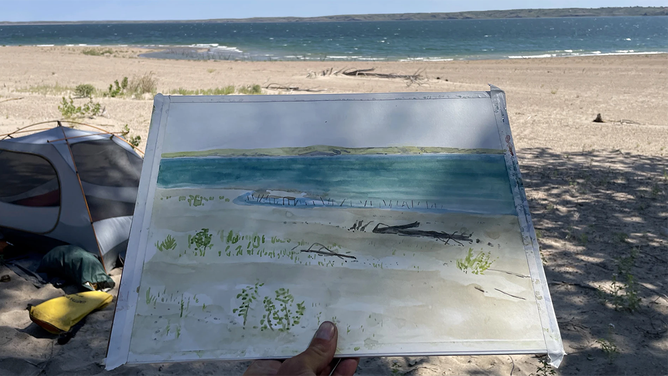 "Imagine Bob Ross in an adventure and survival show," he said.
Snell would set up his video cameras at his campsite on each lake or at the confluence of a particular river and film himself painting. He then recounted the experiences he had encountered.
And after months of pending editing, Snell hopes to premiere the series in the spring. He also posted periodic river updates on his Instagram account throughout his journey.
"It will be a painting exhibition, but it's not just a painting exhibition. It's really about the river, the journey and the adventure," he added.
a new love
On August 28, his wife and son greeted him along the banks of the river north of The Gateway Arch in downtown St. Louis after completing his arduous three-month exploration.
Snell said art and adventure have a lot in common when it comes to meeting a stranger. And while he feels he might have a particular concept, he's not sure what it will become but is very interested in finding out.
Snell received a $15,000 grant through the Mid-America Arts Alliance funded by the National Endowment for the Arts. He also raised nearly $6,000 through a Kickstarter campaign to help pay for his equipment, supplies and living expenses for three months. He even received a teaching sabbatical at the Kansas City Art Institute, where he works.
HOW TO WATCH FOX WEATHER ON TV
"I really appreciate the support that so many people have given to this company," he said. "I think it's more than the money, really. Just knowing that others also believe in this project is incredibly motivating and encouraging."
Snell said his work was very influenced by the surrounding elements at the time.
"Whether it was mosquitoes or flies, wind or thunderstorms and rain, I kept reminding myself that this was the art of adventure," he said. declared. "It wasn't always the perfect time to sit down and paint, but that didn't stop me from painting."
Snell was often told how dangerous the Missouri River was, but that didn't scare him.
"It's a wonderful resource that I think was underestimated by so many people," he said. "Now that I'm part of the set, I love it even more."
And if others knew how wonderful life on the river is, Snell thinks there would be many more people discovering the beauty it offers.
"You just have to get in a boat and check it out, and you'll have it for yourself," he said. "And that's pretty amazing."