After a two-year hiatus due to the pandemic, The Rotary Club of Peterborough Kawartha's "Adventure in Understanding" canoe trip is back for summer 2022 and is looking for participants.
The six-day, five-night canoe trip will see 20 First Nations and non-Indigenous youth ages 16 to 18, along with four chaperones, paddling three 26-foot Voyageur canoes on a 100-kilometre camping adventure along the Trent-Severn Waterway from Peterborough to Curve Lake First Nation.
Developed by the Rotary Club with support from the Curve Lake First Nation Youth Committee, Camp Kawartha and the Canadian Canoe Museum, the co-ed program ran for six years, from 2014 to 2019, until the pandemic cancels the trip for the past. two years.
Advertisement – story continues below
On this year's trip, participants will learn about the ecological and cultural importance of water as they travel through the Peterborough Lift Lock, experience the "Teaching Rocks" at Petroglyphs Provincial Park, and visit Elders at Curve Lake. They will also play Indigenous games, practice Indigenous skills, swim, sing, share stories and make new friends.
This year's trip departs from Beavermead Park in Peterborough on Saturday August 28 and arrives at Curve Lake First Nation on Friday September 2, with overnight stops along the way at Trent University's Champlain College in Lakefield, at Camp Kawartha and Wolf Island Provincial Park. .
Alumni of Adventure in Understanding talk about gaining a new respect for our land, getting to know different cultures, forming new friendships and feeling the sense of accomplishment that comes from paddling 100 kilometres.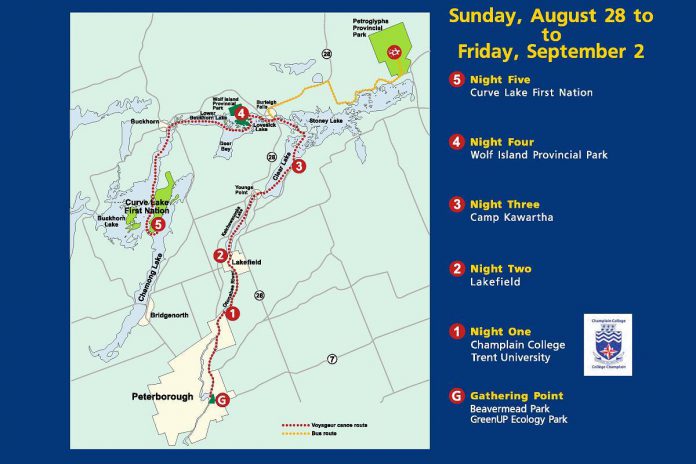 The Adventure In Understanding program is open to all young people, whether they are related to Rotarians or not. While many young people who have participated in the program in the past have been sponsored by Rotary clubs, the program also accepts registrations from individuals.
Application forms and associated forms for the 2022 trip are available at pkaiu.comwhere you can also find more information about the program and past trips.
The cost per participant is $400, which includes all meals and equipment, except for a sleeping bag, ground sheet or lumbar support, and personal effects such as as clothes and toiletries. Applications must be submitted by Monday August 1st.