Ten years ago, Herrontown Woods was an almost impenetrable jungle. Today, thanks to Steve Hiltner and the Friends of Herrontown Woods, it is featured on the Princeton's Recreation website as one of the best in the area for a moderate hiking adventure. With ticks pretty much inactivated by frost, now is the perfect time to enjoy the beauty and peaceful stillness of the trails of this impressive nature reserve.
As Hiltner likes to point out, Herrontown Woods is Princeton's premier open space reserve; he now has a dedicated group of volunteers not only to supervise him, but also to add attractions for all members of the family; and much of the credit for its refreshed trails goes to Kurt and Sally Tazelaar.
The wooded area is closer to its century-old brand as a site to be enjoyed. It was, so to speak, civilized in the late 1930s by Oswald Veblen, a professor of mathematics at Princeton who became one of the founders of the Institute for Advanced Study. Veblen and his wife, Elizabeth, settled in what is known as Princeton Ridge. The Veblens slowly built up property and, seeking to "preserve a piece of land as close as possible to its natural form", donated 81 acres to Mercer County in 1957. The donation was valued at $ 154,000 (over $ 1.4 million in today's dollars).
The donation created not only the first open space in Princeton, but also in Mercer County. When asked why he chose to donate his property to the county rather than the city, Veblen said he believed the county "was uniquely suited to handle this sort of thing." He felt the state was too big and Princeton too small to take care of and develop the property.
The county was ecstatic. Then Freeholder Richard J. Coffee, echoing Veblen's wishes, was enthusiastic: "We envision a nature museum, a system of trails through wooded areas, with trees and other plants labeled, a center relaxation for visitors and conferences to provide opportunities for nature. to study. We will preserve the existing natural beauties and enrich them with facilities that will promote the greatest pleasure of the public. "
Time was to show that Veblen, while generous, was overly optimistic: none of the plans came to fruition in his lifetime and even decades after. Signs of inaction in the maintenance and upkeep of the woods were there almost from the start. The county had not set aside any money for the task. Stuart Robson, the Princeton Township assessor at the time, said the donation meant the unfortunate loss of a tax assessment; in other words, no money for Princeton. And this being Princeton, an unnamed resident complained, "Who's going to pay for the new park?
There was no payment, but there were other donations of land, not only to Herrontown Woods, but also in the form of contiguous properties. The 77 acres forming the Autumn Hill reserve were acquired by the Princeton Township Open Space Commission in the late 1960s. Upon Elizabeth Veblen's death in 1974, the remaining area of ​​Veblen, including the house, was added to Herrontown Woods. The D&R Greenway has ensured that the acreage of All Saints Woods now openly borders the Herrontown property and has also been involved in the recent acquisitions of the Windy Top development. Today, the entire preserved open space – nearly 600 acres – is often referred to as the Princeton Ridge East Conservation Area and is considered the largest collection of contiguous properties in Princeton. Herrontown Woods is the public nucleus of the assemblage.
Getting ownership is one thing; maintaining it is another. In the decades since Veblen's original gift, trees fell, weeds thrived, and trails disappeared in favor of muddy water runoff. Enter Steve Hiltner.
Hiltner, a man of many talents – primarily a professional jazz musician but also a botanist and naturalist among other skills – readily admits he had no idea saving Herrontown Woods when he arrived in Princeton as a faculty spouse in 2003 (his wife is currently Princeton's Program Director in Latin American Studies). What he wanted to save by discovering the area, what he found rather magical, was the abandoned house and cottage of Veblen he had found in the middle of the woods. The sight brought back memories of his childhood in Williams Bay, a tiny town in Wisconsin on the shores of Lake Geneva, where his father was an astronomer at the Yerkes Observatory.
He did, however, recognize that cleaning and restoring trails across the property was a top priority. And, in order to do that, it was necessary to get permission from the county to recruit volunteers and lead the effort. The county saw no problem with volunteers rehabilitating the woods for hikers and walkers. Hiltner's problem at first was recruiting. Finally, in 2013, the Tazelaar and others answered the call.
It took years, and efforts continue to this day, to clear the trails and cover the muddy areas not only through Herrontown Woods but also through the nearby Autumn Hill Preserve. "Kurt Tazelaar got into this initial work," says Hiltner. He added: "He was also pretty strict on getting the right stones for river crossings. These stones were to be surmounted by a flat plateau for walking purposes. Hiltner still remembers how exhausting it was to haul cars loaded with such stones and, under Kurt's supervision, to place them not only through streams but also through areas of muddy trails.
2017 was an important year as the Friends were established as a legal entity and also convinced Princeton to take back ownership of the county woods. Hiltner's hours and hours of hard work made both accomplishments possible. With those goals in place, Hiltner was able to begin implementing Veblen's vision by creating a botanical art garden, filled with labeled native plants, and cleaning up the site as a gathering place for events. Hiltner has also started work on the rehabilitation of the Veblen housing.
As the woods opened, the volunteers came. Among them, the Grade 8 Girl Scout Troop from Princeton. They spent hours giving (seeding native plants) and taking (eliminating the invasive garlic mustard). Members also created signs for Veblen's house and Veblen's chalet – noting here that Einstein walked in the woods and often had lunch with Veblen in the building.
Victorino Pineda – "a genius with a circular saw," says Hiltner – made structures from fallen trees in the woods. His work includes a welcoming archway towards the botanical garden and a walk over a particularly muddy area. Andrew Thornton has also been busy turning fallen tree trunks into benches and trail edges.
Under the leadership and dedication of Hiltner and others too many to name, Herrontown Woods now offers delightful nature walks, conferences, event gatherings and more and more attractions. The website provides information on its board of directors, events and history. Most appropriate for now, it also gives directions to a great place to get out of an excessive holiday meal.
Friends of Herrontown Woods: www.fohw.org.
The boat in the woods and the "Infamous Odyssey Project"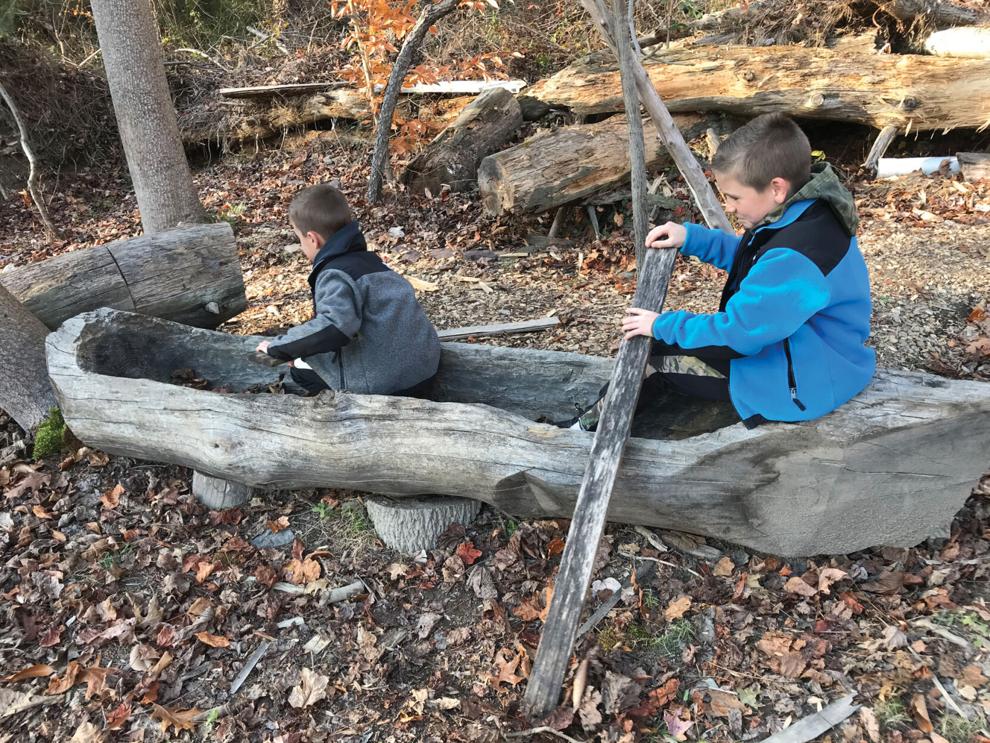 This past Thanksgiving, my husband, son-in-law and two grandsons – Aidan, 8 and a half, and Cameron, 6 – walked the woods to release energy before dinner. The boys adored Herrontown and were particularly intrigued by what appeared to be a canoe carved out of a tree trunk.
They were not alone in their curiosity. Further research revealed that Hiltner, aware that the boat was stowed behind the administrative wing of Princeton High School, was given permission in July 2020 to move it to Herrontown. When he discovered it was part of what generations of Princeton High School graduates describe as "the infamous Odyssey Project," Hiltner asked English teacher Julie Dunham to tell the story of the boat.
Dunham wrote: "Every year for almost 20 years, freshmen have read and studied 'The Odyssey'. As a culminating project, students create their own projects that would demonstrate a personal connection or appreciation for the text. … A group of young men wrote a proposal stating… that they wanted to build a boat that would show the trip information. It was an interesting proposal, so I had no problem approving it.
"The only information that was not in the proposal and that I didn't think to question was the size of the boat they wanted to build. So imagine my shock when I walked into my classroom in December of that year and immediately smelled wood! When I turned to the back of the room, I was stunned. There was this eight foot "boat" with a sail, reaching the ceiling, which described Odysseus' journey! The boat was carved from a log (which was not exactly authentic) but had an accurate trace of Odysseus' voyage on sail. Clearly, the group that created this boat had researched sea crossing. They were very excited about their project! How they brought this boat into my classroom is still a mystery, but I've been told that one of their fathers was instrumental in bringing it to PHS.
"At the end of the year, the boat mysteriously found a new home aft of PHS. I had told the students to make sure they "got home" before the end of the school year, and I (wrongly) assumed that had happened. It wasn't until years later that I found out that he still belonged to PHS.
Dunham concluded his description by writing: "I am delighted that this project finds a new home! Obviously, the young people visiting Herrontown Woods strongly agree with this sentiment.