Artist Yolanda Felix-Wilbur was born in Oregon but spent her life in Whatcom County — and certainly has the credentials to call herself a local. "I lived in Bellingham in 1979, on the back roads of Lakeway, down to the lakeside," she says. "It was really nice growing up there."
She now lives a little north of the city, where she made her life and that of her family.
"My biological mother is a Hot Springs A member of the tribe, and I was brought to Lummi when I was two years old by my father, after their divorce," says Yolanda. "I was raised with the Lummi people and married a tribesman." She lives on the reservation and her children are members of the tribe.
"We opened a gift shop in a store on the reserve and my husband and kids are commercial fishermen, so we're just immersed," she laughs. Her gift shop and gallery, ChiQui, is located in the Lummi Gateway Centerwhich also includes a seafood market and cafe.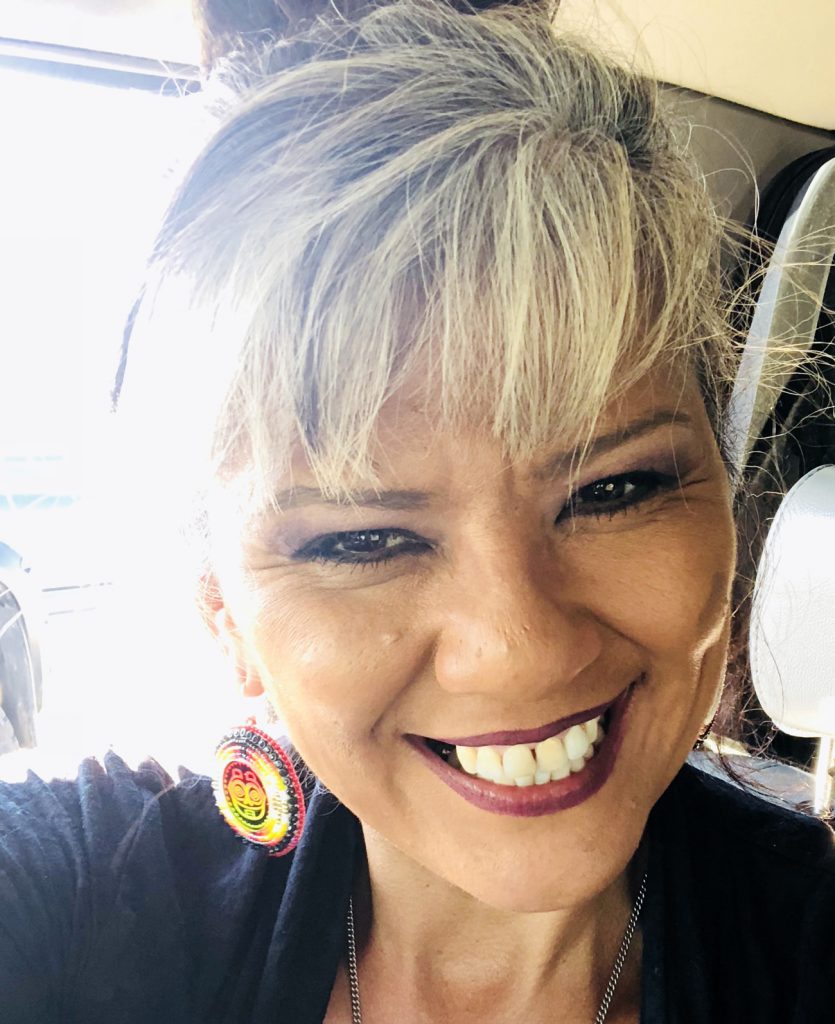 "It's in Te'Ti'Sen, which is a small business incubator with cabins that they rent out to tribal members to start culturally or traditionally creative businesses." The space also features beads, prints, mugs, and small works of art from other tribesmen. "I'm not the only artist; I try to take a one-size-fits-all approach," says Yolanda. "I want to be inclusive of other artists, give them the opportunity to bring their art to the public."
Yolanda did a bit of sketching as a child and never had a formal art education, but things changed for her when her son, Joseph, was diagnosed with leukemia in 2011.
"Joseph wanted a work of art. He said, 'Mom, I want a coat of arms where people can see everything I am. I want it on everything: I want it on my boat, I want it on the front door of the house," she says. "After Joseph died, I contacted two Lummi artists, and I waited about four months to work things out with them before saying, 'I could do it.' So I created this halibut that tells its story.
Soon after, a parent who was only 10 or 11 years old at the time had to receive the same type of treatment as Yolanda's son. "I visited him in the hospital [and] asked him about his family and his strengths. I went home and drew in my head what he told me about, but I did it in totemic art, to tell his story," she says. "I gave this to his family, and they used it as a fundraiser. Their profits were almost $30,000 in four days, and my husband looked at me and said, 'Now, Do you understand, Yolanda? Do you understand what people see?"
Although she wasn't sure at first, she stayed on the path that opened before her.
"I kept trying to help people through art and confided in a few people. The healing elements helped me help people, so to speak," she says. "C That's where it all started, and I just listen to people's stories, and if they're comfortable enough with me, I listen to their totem in lyrics and then put it on canvas for them.
Yolanda says acrylic on canvas is her passion and she also enjoys creating beads. "I beaded the talking stick for Swinomish Tribe, and it's one of my favorite pieces," she says. "It's about five feet tall, five inches around, and it tells a story in its design. It's used in tribal government for etiquette and protocol.
Stories that can be told in art have become a theme in her work, including the mural she painted on the side of the Ferndale Chamber of Commerce.
"If you walk along the belly of the canoe from right to left, all these works of art tell a story about the salmon people, the canoe trip and the potlatch for the trip," says Yolanda. "And at the mouth of the frogs is a circle within a circle – this is the half moon during the potlatch of the canoe trip, and above it are chevrons, which represent the islands between Lummi Island, the 'Portage Island and the Strait of Juan de Fuca.'
Yolanda's work today is a mix of creations for the public, including her Allied Arts enrollment, and the more personal pieces that launched her.
"I've been asked to do some imagery for a parks department, and I'm also working on a logo for a marathon," she says. "I could take your story – whether you are Indigenous or not – and I could ask you about your parents, your children, your favorite animals, your colors, your favorite places, what motivates you. In my mind, I start developing a story about you in totemic design, so to speak, then I create it, scan it, verify it, and you can take it and do whatever you want with it.
Yolanda invites anyone interested in having her story painted to contact her at [email protected] And while she's looking forward to building more relationships in the future, she's also keeping hold of her past. "It all really evolved from Joseph's experience, so I'm giving that to him," Yolanda says. "He made sure I kept my hands busy."