For as long as I ran I waded athletically down canals and rivers – I go out in beehives if I breathe too hard near roads. And since I have been using the towpaths, I have looked with envy at the people in canoes and kayaks plying the water at the level of the moorhens' eyes.
Someday I might try kayaking, I thought vaguely. Sit-on-top kayaks are always made for a much better beach day on vacation. Rowing itself never seemed appealing – too much baggage from the ruling class, too much shouting. But in a kayak, I thought, you could take a peaceful stroll through the wilderness, maybe spot some wild animals by the river that you don't normally see, and almost after the fact, maybe develop a bit of strength in the upper body.
Kismet stepped in a few years ago. The firstborn has expressed a desire to join the local canoe club. After navigating a waiting list, I signed up for an introductory adult course. And another.
There was some basic handling in the boats that you couldn't tip over if you tried. We discovered different types of canoe and kayak; different paddles – never oars! – the different paddle strokes. We learned to keep 'the river on the right' and save ourselves in the event of a fall – not fun in winter, but necessary as hitting cold water can shock the body and disorient even a strong swimmer.
It was mostly fun. It got me out. I wasn't exactly in a rut – I had plenty to do – but it was the best kind of challenge: completely new to me, unlike anything I would normally do, and neither extreme nor ridiculous. Women were well represented. The club actively welcomed people with disabilities. It wasn't just 23-year-old freaks, it was retirees, kids, lots of people of all ages who had recovered from something. I soon had proper triceps. Yes, there was a danger of river pollution and Weil's disease, but with each soaking I got used to being covered in grass more and more.
Our local club happens to be a running club rather than a touring club. Beyond the introductory course, very few peaceful meanders take place. You're still up to the waterfowl, but the ducks scatter in front of you, hinting at their outrage.
I signed up for the race. And then joined the club.
I started with children. Finally, a group of new adults and young teens got together. We learned the race technique, how to get our kayaks over locks – the portage – and, later, the wash-hanging (sliding the wake in the wake of another kayak to save energy). We have learned – well, others have learned – to turn at high speed counterclockwise around buoys. We did "fartleks" – an interval training where you jump on each other to increase sprint speeds. We trained for distance endurance. We refined our technique, using the training of the legs against the footrest of the kayak to fuel the race. We have learned that a successful shot requires a rotation of the shoulders and torso, not just a pull with the arms. We made race starts; time trial after time trial. Every time I lost my focus or got a new kayak I would fall into it. It shaped my character. Like most new habits, training is about happening and getting a little worse over time.
And so I ended up lining up, my son's old club racing vest too tight under my buoyancy aid, card number attached to my kayak, on the start line of my first five mile marathon a few weeks ago.
To be clear: I run for trains and buses, and I run for the endorphin rush and improved sleep. I never ran. I'm not uncompetitive, exactly, I don't do gung-ho stuff.
But after stepping out of my comfort zone for a bit, I have now found myself surrounded by a crowd of much more experienced participants, rocked by 12mph winds, a stranger to myself. I was – ugh – full of carbs. I had even (whispered) sucked in a gel.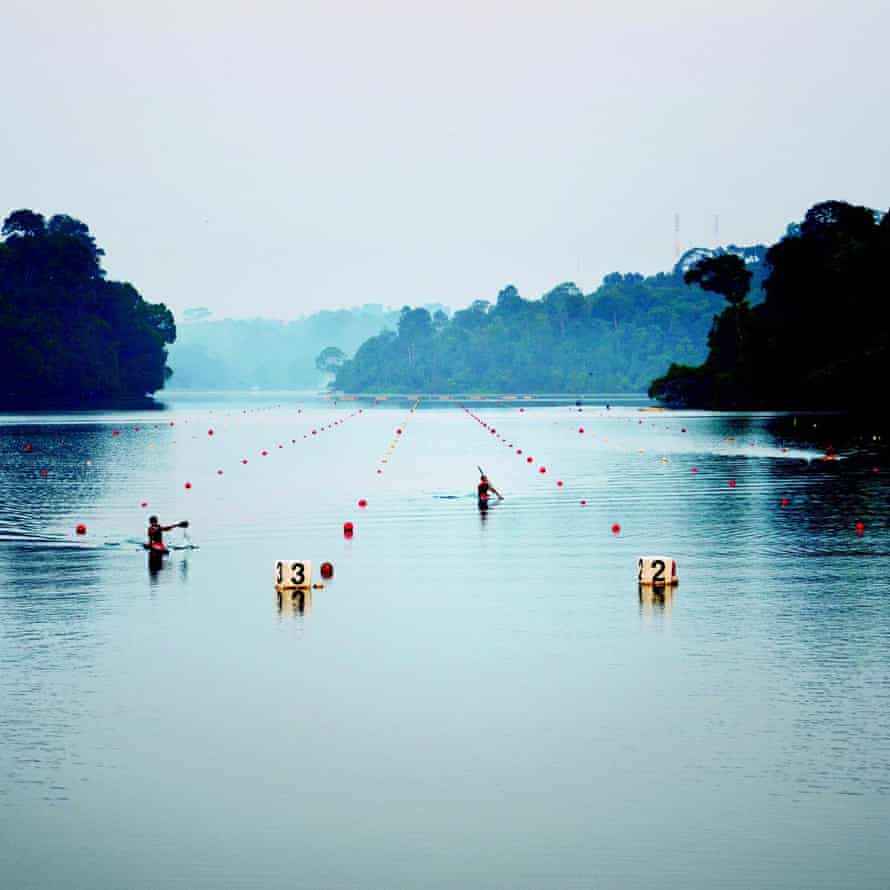 While waiting for the signal, I was faltering dangerously. It was part me, part kayaking. Built for speed, racing kayaks are inherently unstable and not suitable for sitting. And I wasn't even in a fast boat. I had gone from a wide-bottomed Stability 10 ship to something like a Stability Six. The three and two of stability are like stilettos; these are like hypodermic needles. People who run in these have pencil hips and titanium abs. I had children and my heart is made of pasta. This pasta may be a little more al dente than it was a few years ago, but not by much.
Experienced runners took off; I was left in the churning, but standing. Little by little, I found my rhythm. I think I passed someone. The fast kids passed me.
I did not miss the first round: major victory. I did not spoil the portage, nor the second round. No more small victories. When it was windy I kept my paddle low. When the gusts died down, I tried to coordinate the legs, arms, torso and breathing to go faster. Sometimes for a minute or so I was almost alone on the water, almost one with the boat, limbs miraculously synchronized. The sensation of flying as the bow sliced ​​through the sparkling water under the dappled sun was the makings of the snap, but no less true for her.
I limped in, second last in my class, arms like Frankfurters, fingers like claws. But I hadn't fallen into it. And now I have a running time. And next time I could beat him.
How to do
British canoe is the national governing body for paddle sports. It can put you in touch with over 400 certified clubs in the UK, including women's paddle sports groups. Access the adventures is a charitable organization that aims to make sport accessible and affordable for all people with disabilities.
These types of sports usually involve group activities, many are suitable for families, so it is a social pastime with lots of events. Forums such as Association Canoë Open, GoPaddling and the Guide to the rivers of the United Kingdom are sources of information on dating, mentors and travel.
If you like the idea of ​​spending time in, on, or even underwater, there are plenty of options. Try it British Waterskiing and Wakeboarding Association, British rafting, the National Cabotage Charter, the Association of Inland Waterways, the British Underwater Club or the underwater hockey club – the British Octopus Association – for test sessions and information for local groups.