With our love of spending time outdoors and enjoying the water, paddleboarding in the Saanich Peninsula is something that comes highly recommended. There are countless reasons why we love the Saanich Peninsula so much, but here are a few of our favorites. The views are great! The area is stunningly beautiful, with its verdant forests and stunning coastline. There is easy access to the Southern Gulf Islands and the BC Marine Trail from Canoe Cove, making it the perfect location for paddleboarders, kayakers, and other water sports enthusiasts. We like that if you're looking for a bit of adventure, there are plenty of beginner to advanced level routes available for all skill levels. Finally, the area is teeming with wildlife, from whales to dolphins to seals – it truly is a nature lover's paradise!
Photos courtesy of Blue Jellyfish SUP Adventures
Seasons – The Best Time to Visit the Saanich Peninsula
The best time to paddle the Saanich Peninsula is July through September as the waters are warmer and there are more wildlife around. This is also the perfect time to explore the kelp beds and enjoy the white shell beaches between the paddles. To be fully transparent, we recommend avoiding this area in June. It's cold with lots and lots of rain (locals call it June) which doesn't mean much fun in our opinion.
In July, you may be lucky enough to see bioluminescence in the water. This is an amazing natural phenomenon where water lights up with a blue glow when disturbed. So, if you are looking for an amazing outdoor experience, be sure to visit the Saanich Peninsula during the summer!
Hot Spots – Where to Paddle in the Saanich Peninsula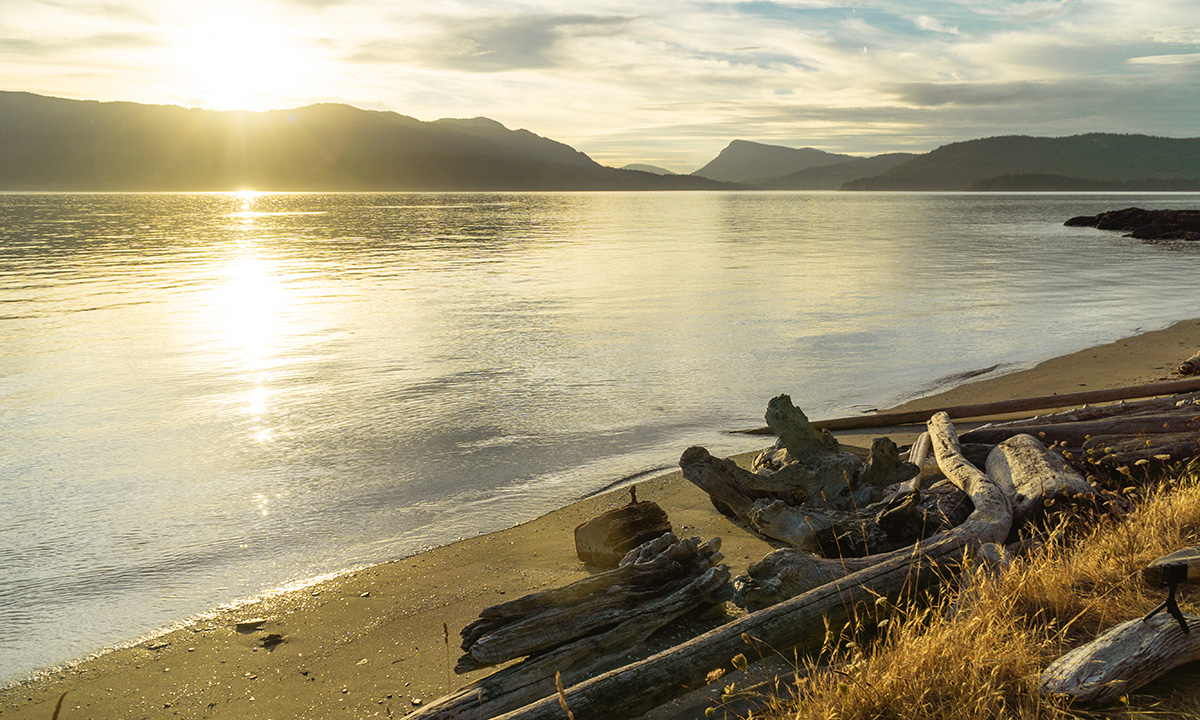 Photo Courtesy: Blue Jellyfish SUP Adventures
There's plenty to see and do on the Saanich Peninsula, whatever your interests. But if you're looking for recommendations on where to go, we've got you covered! Below are our top picks from a locals perspective.
Top 4 places to paddle
Known as a "paddler's paradise", the Saanich Peninsula is surrounded by the Gulf Islands and on the lee side of Vancouver Island. The peninsula officially begins at Millstream in the west and Cordova Bay in the east. It is approximately 28 km long and 13 km wide at its widest point. So let's take a look at where we recommend you go out on the water.
For novice paddlers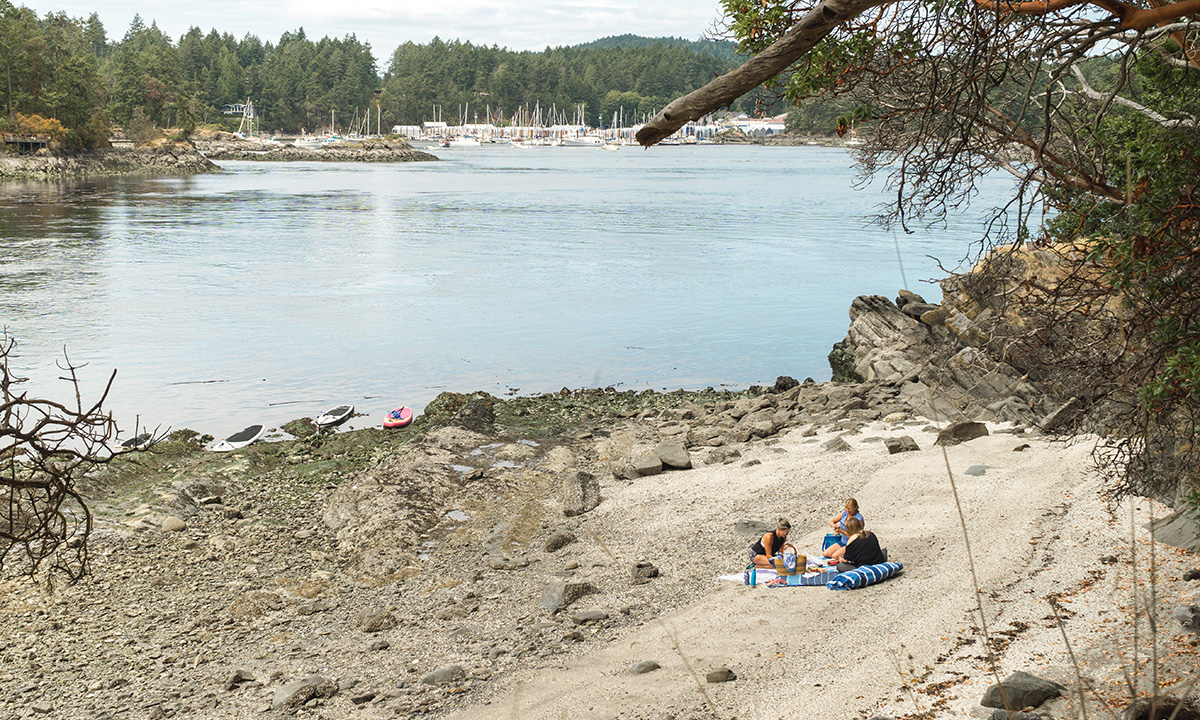 Photo Courtesy: Blue Jellyfish SUP Adventures
Brentwood Bay
Difficulty: Easy
Access points and parking for paddles: Pacifica Paddle Sports in Brentwood Bay.
Distance of the paddle route: 2.6 km
Paddling Hazards: Moderate congestion
What else to see and do: Butchart Gardens, picnics, whale watching.
*This is our favorite place to learn! We use it for all of our SUP lessons and many of our Learn to Paddleboard programs.
Sawluctus Island Loop
Difficulty level: Easy
Paddle Access Points: Millstream Launch
Parking: Available at Goldstream Boathouse, parking and launching fee $20/vehicle includes launching 2 boards
Paddling route distance: 3.2 km from the marina, around the island and back
Paddling hazards: cannot paddle south of marina – restricted access, do not paddle too close to seals on docks, do not land on private island.
What else to see and do: Hiking in Goldstream Provincial Park, snorkeling and diving.
For intermediate paddlers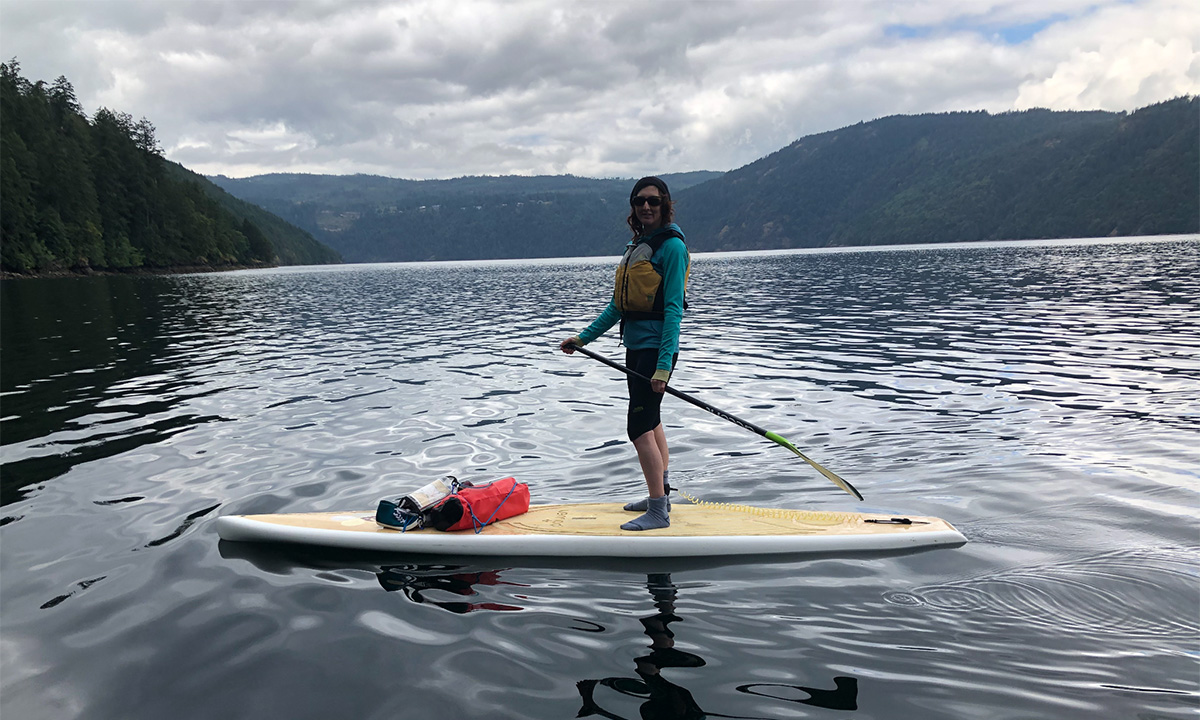 Photo Courtesy: Blue Jellyfish SUP Adventures
Finlayson Arm Fjord
Level of difficulty: Intermediate-Advanced.
Paddleboarding hotspots: Pacifica paddle sports in Brentwood Bay.
Parking: available.
Paddle course distance: 12km from Brentwood Bay to Millstream.
Paddling Hazards: This is an unsupported 12km paddle so conditions may vary.
What else to see and do: Eagles and seals.
For advanced paddlers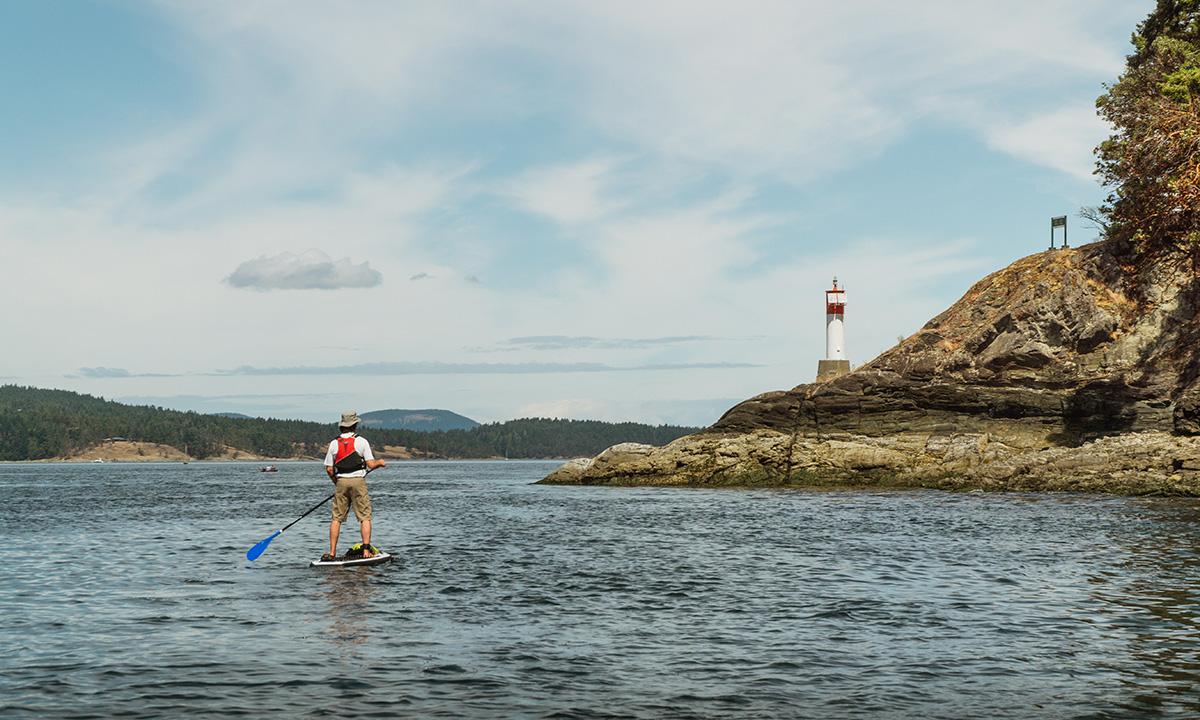 Photo Courtesy: Blue Jellyfish SUP Adventures
Go around Piers Island
Level of difficulty: Intermediate-Advanced
Access points and parking for paddle: Pacifica Paddle Sports Swartz Bay.
Distance of the paddle route: 4.8 km
Paddling hazards: Ferry traffic, crossing main canals, should be familiar with boat traffic rules, winds can pick up
What else to see and do: Pat Bay Air Floatplane Tours, Book a night on Piers Island.
This is just a brief overview of the places we recommend for people of different skill levels. For a more comprehensive article on where to paddle in the area, check out: A Local's Guide: 10 Best Paddleboarding Spots on the Saanich Peninsula.
Other paddlers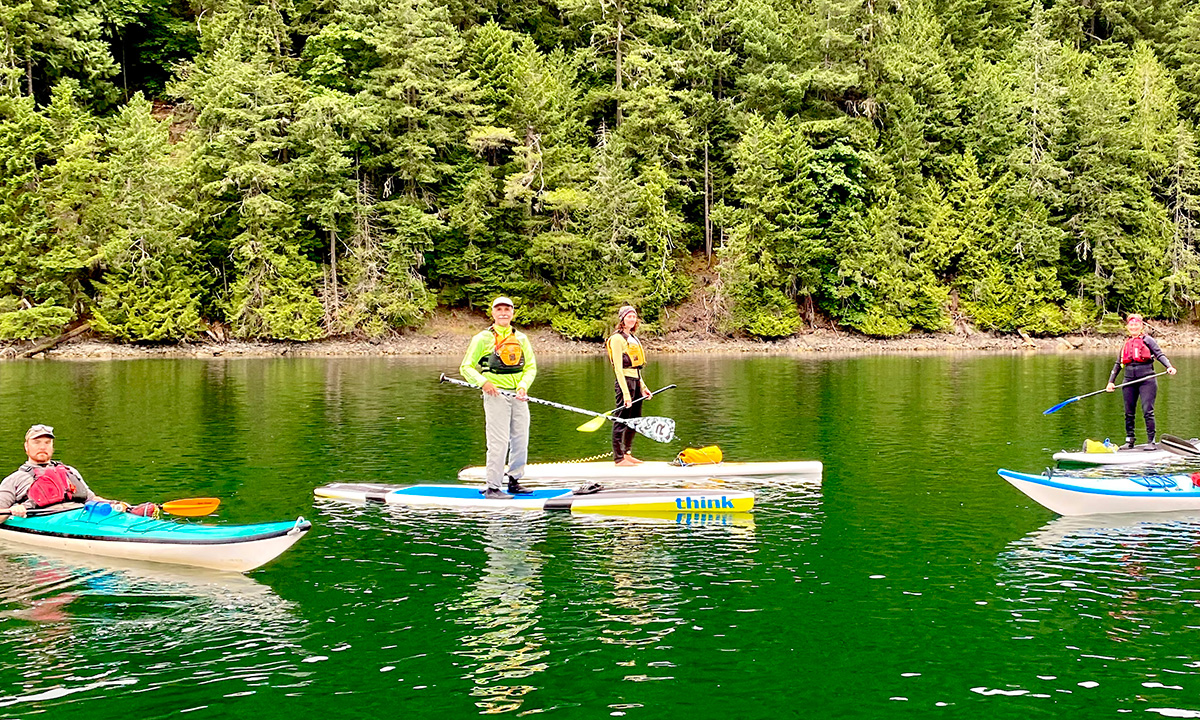 Photo Courtesy: Blue Jellyfish SUP Adventures
The best thing about paddling is that you meet new, interesting people. You can chat with them about all kinds of topics! If you want to talk about paddling check out Blue Jellyfish SUP Adventures, Pam is always on the cutting edge and creating great local content on paddleboarding in the area.
Paddle excursions and multi-day excursions.
A great way to meet new people and interact with local paddlers is to book tours. If you're looking for a new and interesting way to explore the sights and sounds of the Saanich Peninsula, but feel a little overwhelmed, consider joining a paddleboard tour. These tours offer an up-close perspective on the region's geography, wildlife, and culture that can't be found anywhere else.
Most paddleboard tours last between four and six hours, making them the perfect way to spend an afternoon or morning. You will be able to see everything from hidden coves and quiet coves to bustling harbors and iconic landmarks. Plus, with a guide leading the way, you can learn about the area's history and mythology.
If you're looking for great paddleboard excursions, check out Blue Jellyfish SUP Adventures or Pacifica Paddle Sports. Both of these companies have been serving the Saanich Peninsula for many years and have a wealth of knowledge to share.
Photos courtesy of Blue Jellyfish SUP Adventures
SUP Meetup Victoria
Another great way to meet paddlers in the area is to attend a SUP Meetup. Organized by Pacifica Paddle Sports and Blue Jellyfish SUP Adventure, these encounters are a laid back and relaxing way to spend your evening exploring the bay with other paddlers. This SUP Meetup is free if you bring your own gear and takes place once a week all summer long.
Interact while you watch the birds!
The Saanich Peninsula is a bird watcher's paradise. So why not meet people who share the same interests as you! Interacting with other birders can be a great way to learn more about birds and their behavior. You can exchange tips and stories and learn from each other's experiences. It can also be a lot of fun! There are often groups of local bird watchers who get together to go bird watching. It's a great way to make new friends and learn more about the birds in your area.
Check out a complete guide to paddlebirding (yes, we may have coined that word). In this BC Bird Guide for Paddlers, we focus on birding on Vancouver Island in places like bird sanctuaries, provincial parks and estuaries. Expect to know which birds you can see from your stand-up paddleboard, which birds are seasonal, access some PLUS resources, we'll share our own BJF paddlebirding checklist.
Photo Courtesy: Blue Jellyfish SUP Adventures
Oceans Week Victoria
Did you know Oceans Week Victoria was launched in 2020 to foster community connection and engagement? By providing a platform to support ocean-inspired events on southern Vancouver Island, we help facilitate and promote inclusive and accessible community events of all sizes, with a focus on about education, conservation and fun! We invite residents, businesses, Aboriginal groups, scientists, educators, youth… everyone to get involved! Blue Jellyfish SUP Adventures is honored to volunteer with the organizing committee and we encourage you to check the Oceans Week Victoria website for a full list of events and activities both virtual and in-person taking place this year, for the whole family.
Photo Courtesy: Blue Jellyfish SUP Adventures
Conclusion
If you're looking for an incredible paddleboarding experience, the Saanich Peninsula is for you. The lovely locals and sheltered waters of Brentwood Bay make for an incredible location for paddlers of all skill levels. The summer weather and sights to see from your board make the Saanich Peninsula a must-see for any boating enthusiast exploring Vancouver Island.
For more SUP destinations, click HERE.