By Brian E. Clark Special for the Post-Dispatch

Deep in the shallow waters of Hay Bay, at the southern end of Isle Royale National Park, a large bull moose lifted his dark brown head from Lake Superior, water dripping from his velvet-covered antlers .
The beast looked around and stalked the wooded hills of remote wilderness that early 20th-century writer T. Morris Longstreth once called "a fragment of a continent stilled in the sea of ​​green and water. gentle (who) is indeed royal, secluded and supreme".
Then the moose plunged its huge noggin back in to nibble on lilies and other aquatic plants, which biologists say is this ungulate's favorite food choice in the summer.
According to them, moose choose aquatic foliage because it contains higher concentrations of sodium and other minerals than other parts of their diet: leaves, twigs, buds and bark.
My friends and I watched the animal nibbling across the small bay on the deck of Memories Maid, a 40ft Hunter sailboat we had piloted over 100 miles from Wisconsin to Isle Royale in the North Corner -west of Lake Superior.
We were on a nine-day sea-sailing adventure that took us to Ontonagon, Michigan, in the shadow of the Porcupine Mountains, then to several ports on Isle Royale, which is 45 miles long, nine miles wide and about 20 miles from the nearest mainland in Minnesota or Ontario, Canada.
After several days of hiking on the island, we continued to Grand Marais, Minnesota – a jumping-off point for trips to the Boundary Waters canoe area – before returning to our home port near the quaint town of Bayfield, which looks like it was lifted from a New England postcard.
Just an hour before seeing the moose, Memories Maid skipper Eric Olson, his 30-year-old son Julien, and I had hiked to a meadow about 200 feet above Hay Bay.
Far below and across the creek we could see our boat and Calico Cat, the 38ft catamaran that was the other half of our little flotilla. The other crew members of Memories Maid were Julien's mother, Sue, and Norman Engvall, a trained nurse from northern California and a longtime friend and sailing partner of the Olsons, who live in Minneapolis.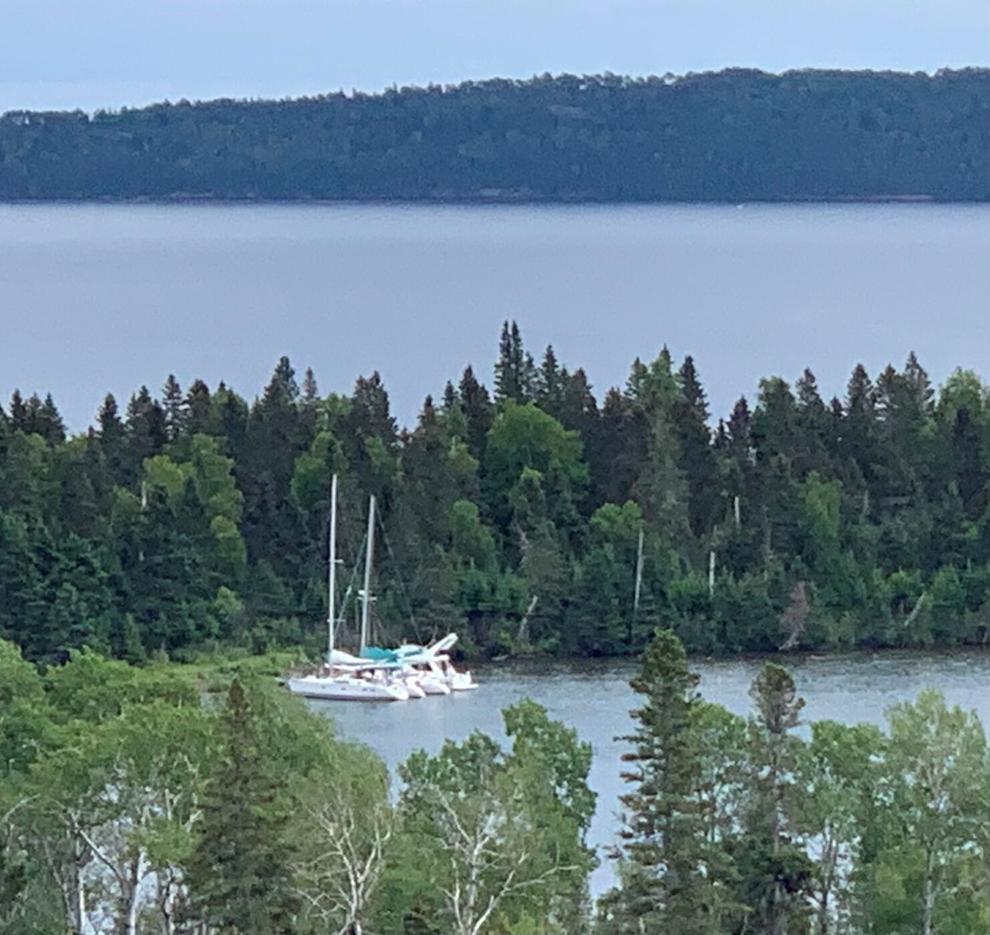 Just around the corner was Siskiwit Bay, where we had moored the night before for hiking and exploring. And beyond that inlet are the vast waters of Lake Superior – known as Gitche Gumee in the Ojibwe language – one of the largest freshwater lakes in the world.
Earlier this summer, I had taken a sailing course at Northern Breezes Sailing School in Minneapolis (www.northernbreezessailing.com) on the Memories Maid to achieve at least part of my goal of one day chartering a sailboat in the Caribbean. Or who knows, maybe the Adriatic off Croatia or in the South Seas near Tahiti?
Under the tutelage of Captain Guy Wray, a jolly Australian native, my friend Dave Cushman of the National Ski Patrol and I honed our skills in mooring, anchoring, gybing, tacking and sailing in the waters surrounding the Apostle Islands, a national coastline that many consider comparable to the British Virgin Islands in the Caribbean. Only considerably colder.
We even practiced our man overboard drills, in case any of us got into the drink. But no one jumped into the cold 60 degree waters. Instead, we "rescued" a plastic milk jug by using an "S Turn" maneuver to bring our boat closer to the victim. By the end of the three-day course, we had earned our American Sailing Association 103 and 104 certificates.
Captain Thom Burns, a former naval officer who started Northern Breezes Sailing in 1999, was at the helm of the Calico Cat, which spends its summers moored alongside the Memories Maid at Pikes Bay Marina, a few miles south from Bayfield – when not on the water.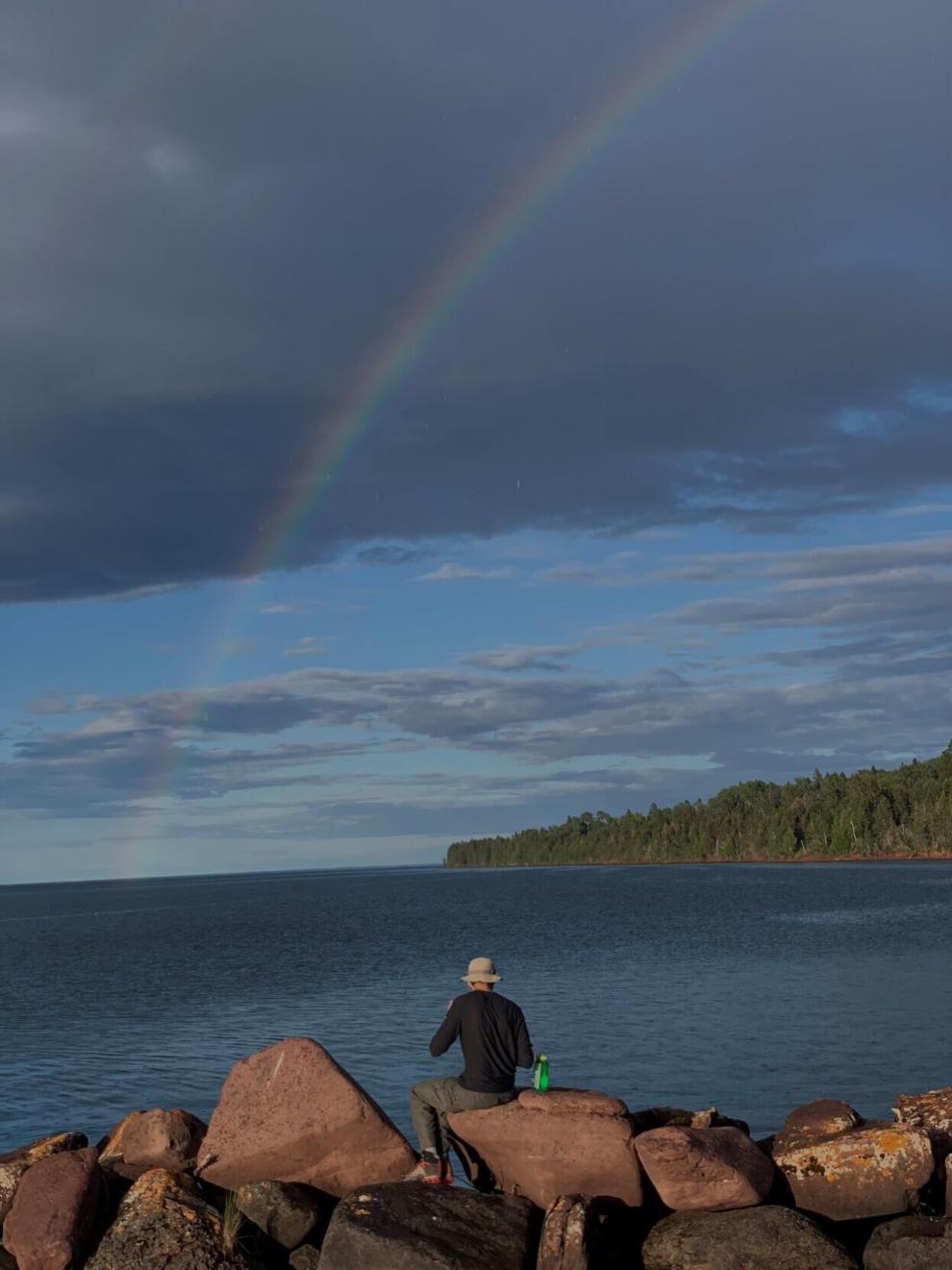 We spent the first night in Ontonagon after sailing about 75 miles from Bayfield, propelled by a steady southerly wind that filled our sails. For a while we were even able to deploy a bright red spinnaker which allowed us to increase our speed.
We woke up to a light mist the next morning, brewed coffee in the kitchen and other tasty dishes – granola, yogurt, scrambled eggs, Havarti cheese and multigrain wheat bread – before heading down the muddy Ontonagon River. in the clear waters of Lake Superior.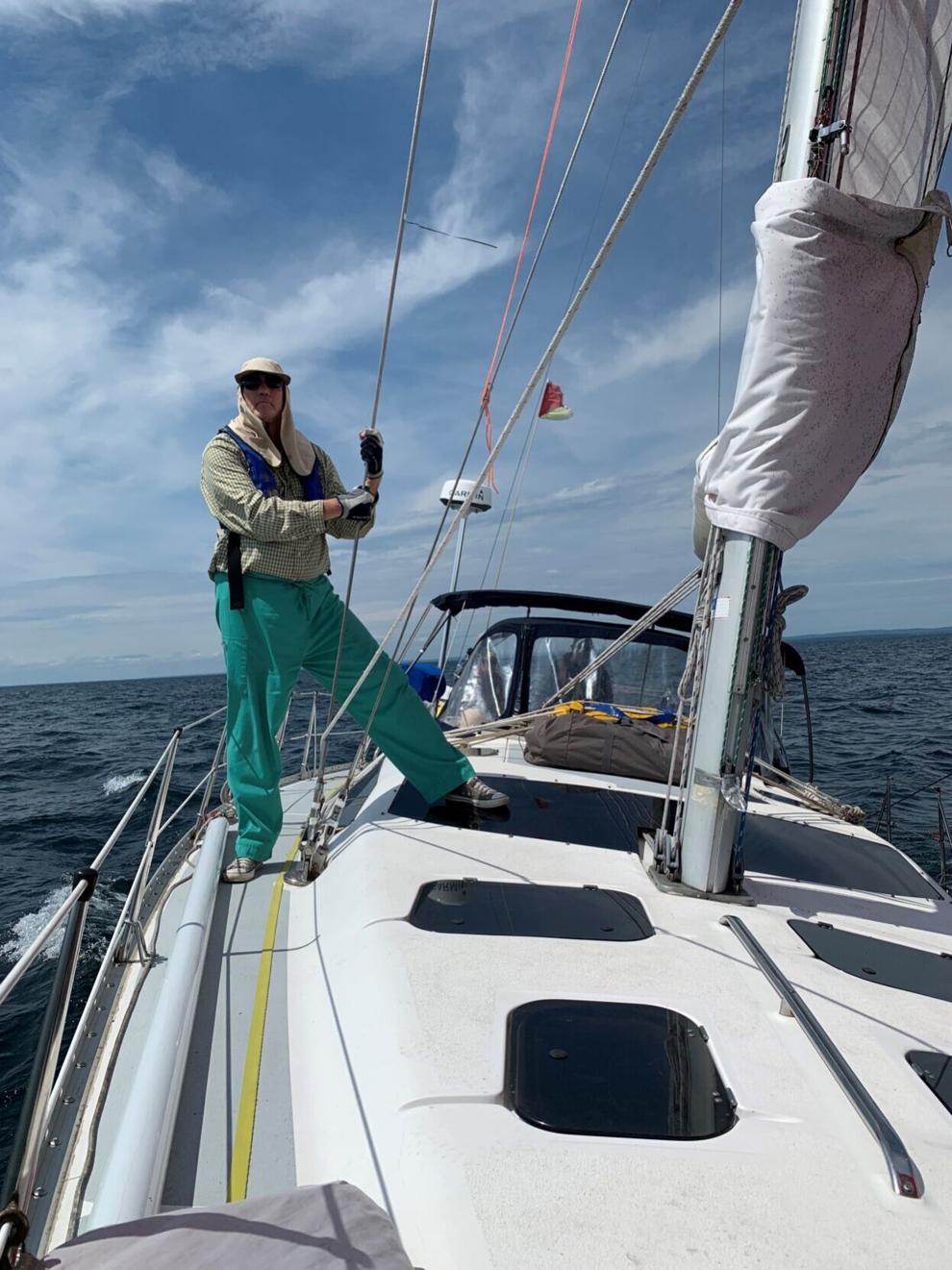 On several occasions during our seven-hour run to Isle Royale, gusts of wind forced our sailboat to heel over 20 degrees. A few of these times I was at the helm, using my newly acquired skills to feather the boat into the wind to help list and then resume our course.
It was, in a word, a hoot.
After Hay Bay, we sailed to Rock Harbor, home of Isle Royale National Park.
Although most of the island is wild – with wolves, moose, otters, loons, pretty wildflowers and a scattering of lakes and small islets – Rock Harbor has a lodge, restaurant and wharf where ferries from Michigan and Minnesota bring in visitors, many of them carrying heavy backpacks for multi-day camping trips to remote spots on the island.
After a three-mile round-trip hike one morning to Scovile Point, on the rugged northeast end of the island, I returned to Rock Harbor and treated myself to an ice cream bar. And while the backpackers were probably eating freeze-dried food, we ate delicious meals on the deck of our sailboat, cooking up in our little kitchen. One evening, I concocted a dinner of minced kids, onions, baked beans, salad and sauerkraut.
Julien Olson, the most agile of our crew, told me he first came to Isle Royale when he was 14 years old. He arrived in Rock Harbor by taking the Voyageur II ferry (which happened to be docked next to us for part of our stay) from Grand Portage, Minnesota to Rock Harbor, a 20-mile jaunt.
His hearty group jerked for 11 days at the southern end of the striated island, which is made up of a series of parallel ridges and valleys that were scraped away 11,000 years ago when the last glaciers retreated.
The current trip to Isle Royale was his sixth visit, twice hiking and four times sailing. The first time he sailed to the island was in 2015 and Thom Burns was his captain.
"It is true that Isle Royale is the least visited but most frequented national park," he said, using his experience as an example.
"Hiking and sailing both have their advantages," he said. "When you sail, you end up exploring the interior of the island less. But I have visited so many incredible places on the island that I would never have reached if I had not sailed there.
"Some highlights of places I've been where hiking trails can't take you are Francis Point on the south side of Siskiwit Bay, Blueberry Cove, Passage Island, Malone Island, Smithwick Island and that unnamed mossy outcrop you, my dad and I bushwhacked above Hay Bay.
Olson said his family had kept an 18-foot sailboat on a Minneapolis lake for more than a dozen years.
"I learned the basics of sailing by taking their boat out with friends for many summers," he explained. "In 2014, my parents and I decided we wanted to learn to sail to Isle Royale, so we started taking Northern Breezes lessons. I think I now have 7 ASA certifications and endorsements. My parents are about 9 years old.
One afternoon we hiked from Rock Harbor to Tobin Bay and paddled rental canoes across the shore, passing a loon and her chick. Then we walked past Monument Rock to Louise Lookout on a trail that took us through an apocalyptic scene of blackened trees, boulders, and underbrush, remnants of a big fire the previous year. Two weeks after we left, another fire broke out nearby.
We spent our last day on the island at Washington Harbor, home to the Windigo Visitor Center and several hours of sailing from Rock Harbor. Then it was on to Grand Marais, which I reached as a passenger on the Calico. We docked near the folk school, which offers a wealth of lessons from felting to boat building and looked like it was raised off the west coast of Sweden. For dinner we ate at a continental restaurant known as Angry Trout.
On the last day of the trip, we returned to Bayfield, more than eight hours sailing on Memories Maid, where we cleaned the boat and said our goodbyes. But I know I will be doing more sailing on Lake Superior and will most definitely return to Isle Royale. After all, I've barely scratched the surface.