Content of the article
The controversy over transgender swimmers in official competition continues.
Content of the article
Case in point: Lia Thomas, going male-to-female, and Iszac Henig, going female-to-male, recorded the fastest stint times at the Ivy League Women's Championship on Wednesday night competing directly in the first leg of the 800-yard freestyle at Harvard, according to dailymail.com.
Content of the article
Thomas, 22, previously swam for Penn State's men's team in 2019 when she started taking testosterone blockers and estrogen, and can compete as a woman because she's had a year of hormone therapy.
Henig, meanwhile, a 21-year-old swimmer from Yale, did not take hormones and is still able to compete as a woman. She swam topless with visible scars under her shrunken breasts and wearing men's swim briefs.
Content of the article
A new requirement was announced by USA Swimming earlier this month that transgender women must suppress testosterone levels for three years prior to competition, meaning Thomas would not have been eligible.
The NCAA Championships in Atlanta in March initially announced they would follow these new rules, but last week the national body overseeing college sports said a new mid-season policy was unfair to Thomas. can compete.
"If a cis woman gets caught twice taking testosterone, she's banned for life, whereas Lia had 10 years of testosterone," Nancy Hogshead-Makar, president of advocacy group Champion Women, told the dailymail. .com.
According to CNN, Hogshead-Makar, a three-time Olympic gold medalist in swimming, arranged a letter signed by 16 of Thomas' unnamed teammates expressing concern about her participation.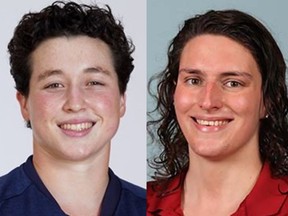 "Biologically, Lia holds an unfair advantage over the competition in the women's category, as evidenced by her ranking which went from #462 as a male to #1 as a female," the letter reads in part.
However, other members of the Penn State team stood by her, saying in part that those sentiments "are not representative of the feelings, values, and opinions of the entire Penn State team."